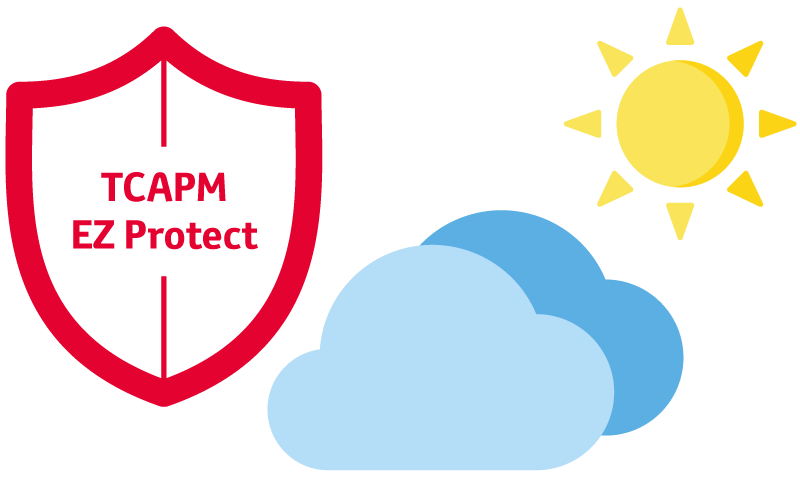 High Coverage at
affordable premium
as low as RM250 only
TCAPM EZ Protect
Car Life Secure Insurance Underwritten by Hong Leong Assurance Berhad (HLA)
| | |
| --- | --- |
| 1 | Single Premium for coverage up to 9 years |
| 2 | Your Car Loan: Settled and beneficiaries may keep the car in the event of Death/Total Permanent Disability |
What is
TCAPM EZ Protect?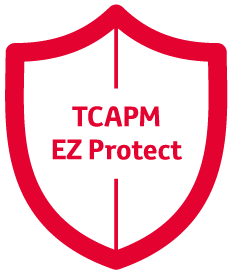 Car Life Insurance is a single premium term plan with coverage of up to 9 years that is designed to take care of your car loan in the event of death or Total and Permanent Disability (TPD). The Sum Assured reduces over the coverage period.
In simple words, we will take care of your Toyota Capital financing in the event of uncertainty - affordable premium as low as RM250 only.
Features & Benefits of
TCAPM EZ Protect

Security
In the event of Death or TPD, 100% of your Sum Assured will be payable. This amount can be used to offset the outstanding loan, and will help relieve the financial burden on your loved ones. The TPD Benefits will be paid in accordance with the TPD provision.

Affordable Premium
Just pay a single payment and you are protected for the entire tenure of your policy.

24-hour Worldwide Protection
Protection in the event of death or TPD of the life assured is 24 hours, 365 days. Car Life Insurance is also not restricted to residence, occupation or travel, and is subject to exclusion of the benefits.

Easy Application
No medical examination required, just need to answer 4 simple Health Questions with a minimum coverage from RM25,000 onwards.

Single Premium with Flexible Insurance Coverage
You have the Flexibility to select a policy term from 1 to 9 years to match your loan tenure.
| | | |
| --- | --- | --- |
| | Minimum | Maximum |
| Age of Entry | 18 | 60 |
| Policy Term | 1 year | 9 years |
| Sum Assured | RM 25,000 | Subject to underwriting |
Age

Toyota - Estimated Insurance premium (RM) with an average net loan of RM95,000

Tenure

1

2

3

4

5

6

7

8

9

18-35

133

190

256

323

399

446

522

589

665

36-40

161

247

342

427

541

646

760

902

1,035

41-45

228

351

484

627

788

950

1,130

1,330

1,539
Age

Perodua - Estimated Insurance premium (RM) with an average net loan of RM44,000

Tenure

1

2

3

4

5

6

7

8

9

18-35

61

88

118

149

184

206

242

272

308

36-40

74

114

158

198

250

299

352

418

479

41-45

105

162

224

290

365

440

523

616

712
Above premium is subject to underwriter approval.
Personal tax relief is subject to your eligibility and approval from the Inland Revenue Board of Malaysia.
This product is underwritten by Hong Leong Assurance Berhad, an insurer licensed under the Financial Services Act 2013 and regulated by Bank Negara Malaysia.
(i) Free Look Period
The policy may be cancelled by you by giving a written notice to the Policy Owner(TCPAM -Toyota Capital) within 15 days from the date of delivery of the policy to the Policy Owner. HLA will refund the premium paid without interest and any applicable tax after deducting any medical expenses which may have been incurred.
(ii) Important disclosure
You must disclose all material facts such as medical condition and state your age correctly. A nondisclosure of actual medical condition or did not provide full, complete, and true answers in the application/ proposal form may result in HLA avoiding any policy which may be pursuant to the proposal, rejecting or reducing the amount of any claim under such policy or changing the terms of such policy.
(iii) All applications are subject to underwriting approval.
(iv) Please note that the list of FAQ is non-exhaustive. Please refer to HLA for the full list of exclusions under the policy.
Disclaimer
The information provided on this page is not a contract of insurance. The descriptions of cover are a brief summary for quick and easy reference. The precise terms and conditions that apply are in the policy document.
Secure your car loan with
TCAPM EZ Protect
Interested? Please submit your contact details in the form below and we will contact you as soon as possible.
Alternatively, you may call to 03-2727 8880 for more information.
Thank you for your interest in our product.
TOYOTA CAPITAL MALAYSIA
INFORMATION CONFIRMATION FORM
Frequently Asked Questions
1. Is it a monthly instalment premium plan?
No. It is a one-time payment insurance premium which covers for the whole loan tenure.
2. If I was hospitalized due to Covid previously, am I still eligible to purchase this insurance?
We shall update the underwriter, HLA and the eligibility is subject to underwrittig based on your health declaration upon submission.
3. How much should I insure? Can the sum assure higher than my car value or outstanding sum? How much will the insurer compensate in the event of death of TPD?
It is advisable to have a coverage which is higher than your outstanding loan (balance + total interest charged) to ensure your beneficiary(s) have savings after settlement of the loan balance.
4. What if my application rejected by the underwriter, HLA due to unforeseen circumstances and I had paid the insurance premium?
We will refund the premium to you within 14 days after received notification of rejection from HLA.
5. If the policy is terminated/canceled earlier than the actual policy term, will there be a refund of cash surrender value?
Yes, there will a refund accordance to the estimated amount in sales illustration provided to you. IBG form is pre-signed at the beginning of the proposal form.
6. Can the policy term and sum assured be changed?
Both items are not allowed to change once the enforcement of the policy.
7. How many beneficiaries / nominee (s) are allowed to put in the nomination form?
Three (3). A nominee of a Muslim policy owner upon receipt of the policy moneys shall distribute the policy moneys in accordance with Islamic law.
8. What happen when I early settled my HP loan, will the insurance policy be terminated?
The moment your hire purchase loan is settled, the insurance policy will be automatically terminated. Reason being your loan liability with TCAPM is already settled.
9. In the event of death or TPD happened to me, what will happen?
At the beginning of the proposal / application form, you will sign the nomination form for our safekeeping. In the event of unfortunate happening of death or TPD, you or your nominee will need to inform and submit the following documents to us for HLA to process the claim which may take a month to process depending on the situation: -
i. Death/Living claim Application Form
ii. Death Certificate
iii. Policy Certificate
iv. Loan Agreement to confirm the outstanding loan amount at date of death
v. Copy IC of Life Assured (For TPD Claim)
vi. Medical Attendance Report on Total Permanent Disability (For TPD Claim)