How does it work?
The new Toyota EZ Beli 4-Tier Plan is Toyota Capital's latest innovative auto-financing plan. It's a hassle-free monthly instalment plan that grants you greater financial flexibility compared to conventional hire purchase loans. The EZ Beli is, in essence, a 9-year loan that's divided into four payment phases for your ultimate convenience.
Here's how this unique plan works: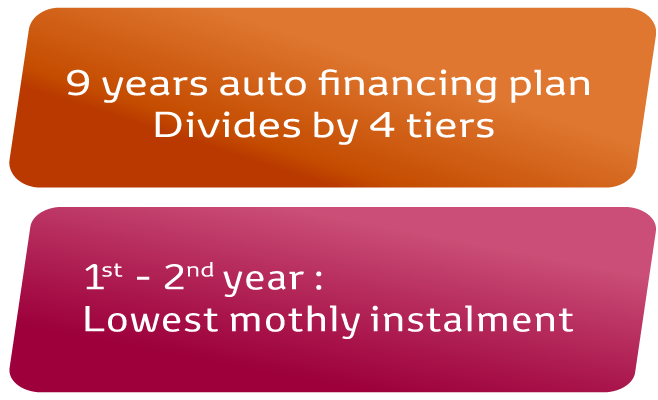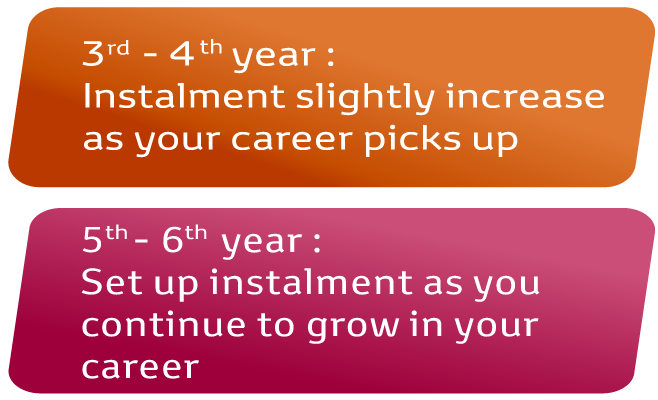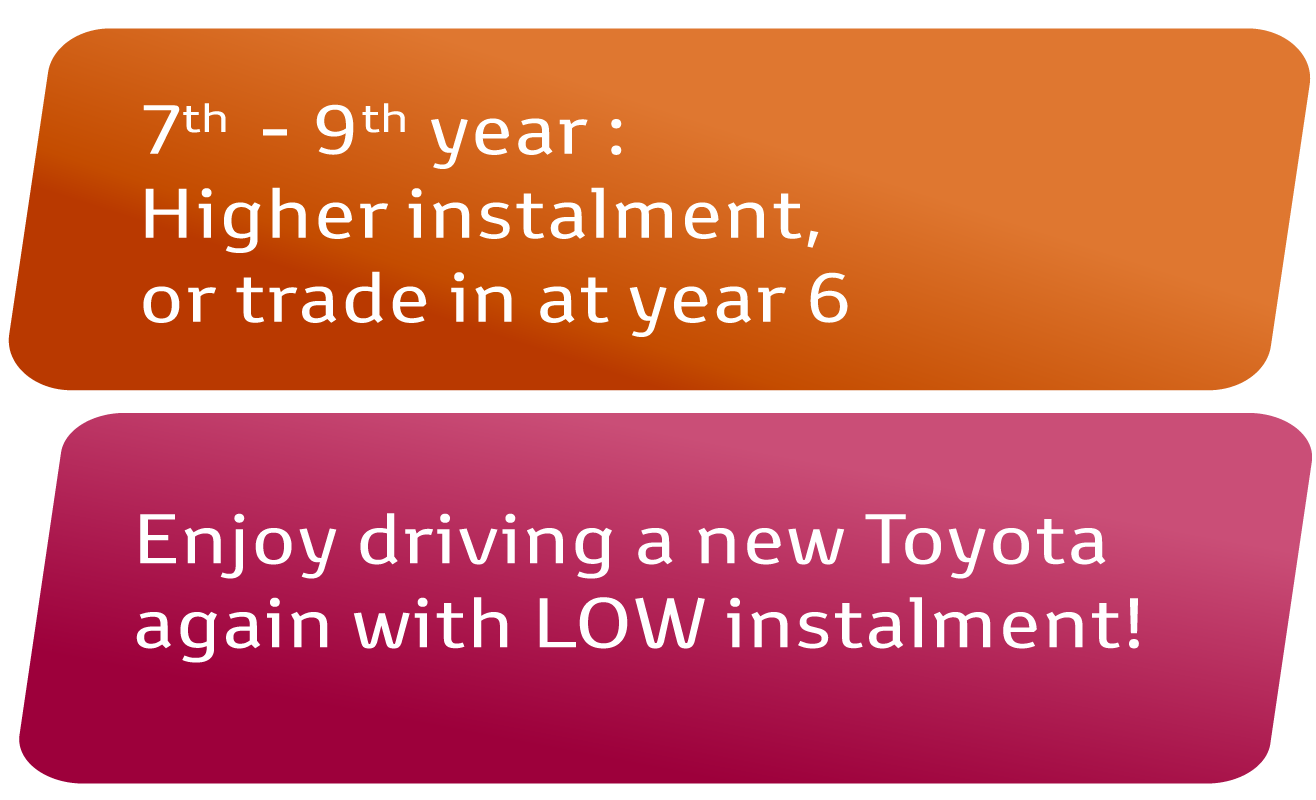 Owning a Toyota has never been so easy
Here's how the 4 Tiers work for each Toyota car of your dreams: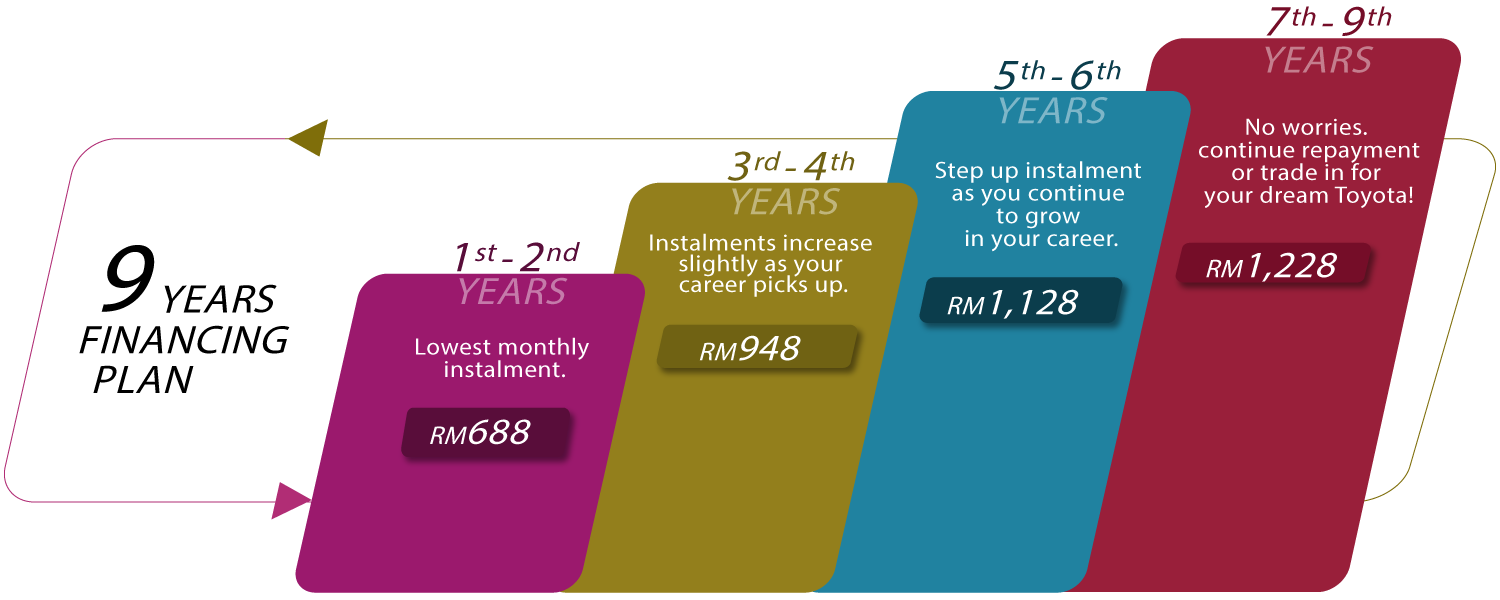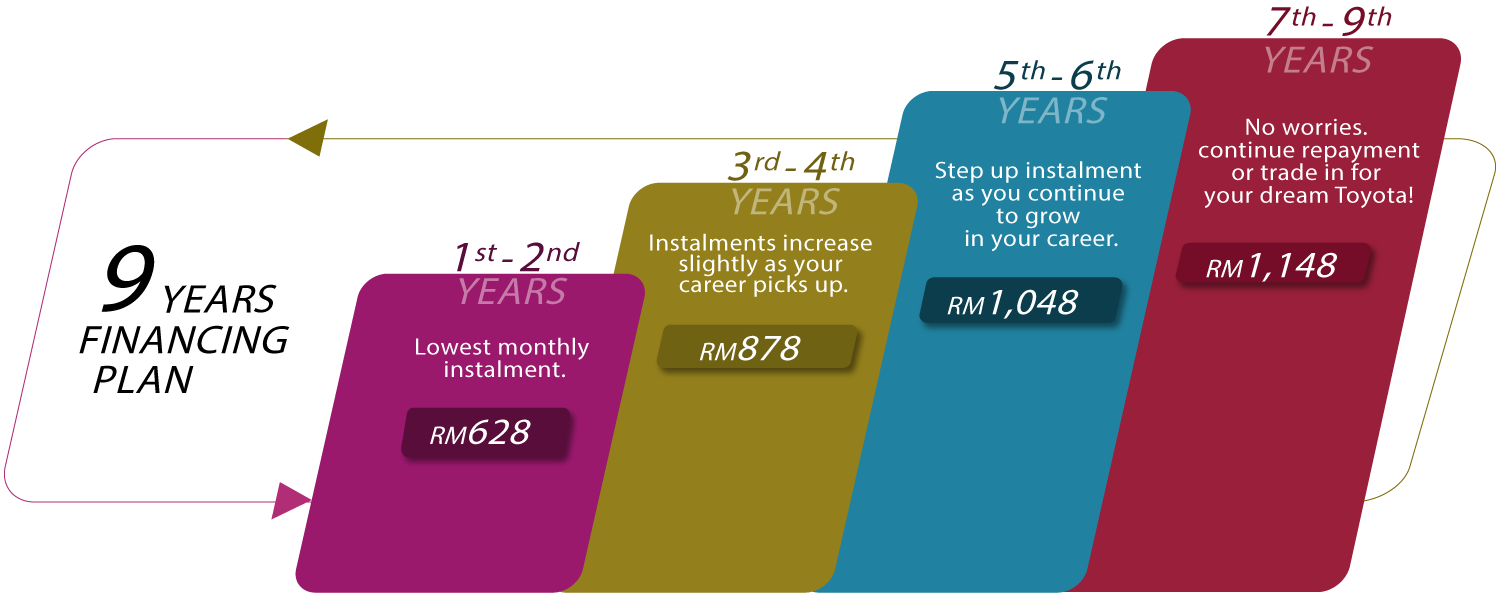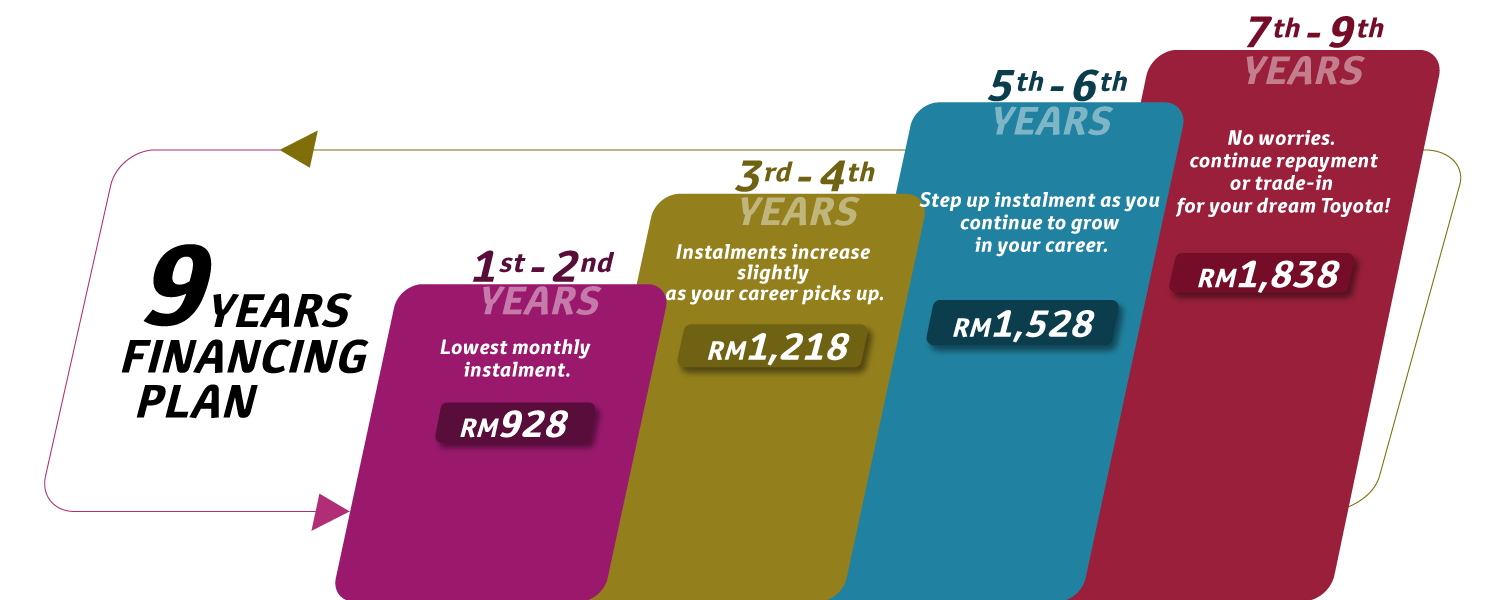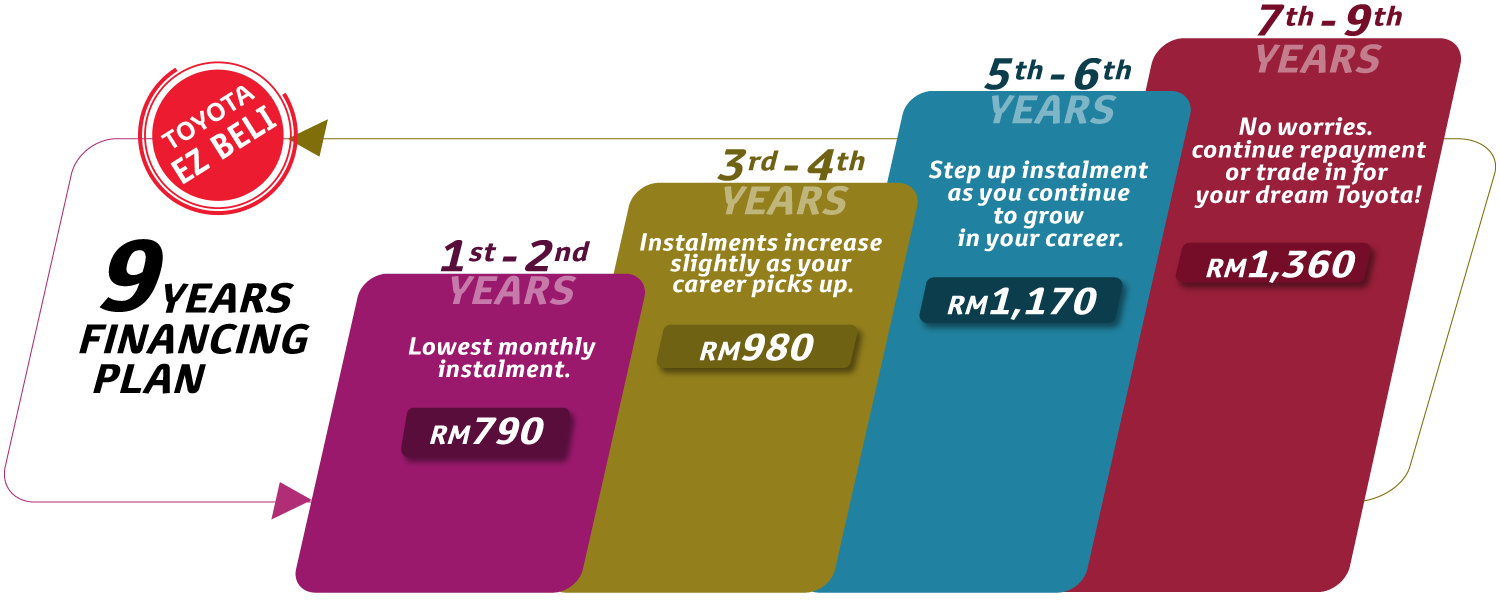 Benefits
Lowest and competitive monthly instalment for the first 2 years
Slight increase in Tier 2 (Year 3 - 4) & Tier 3 (Year 5 - 6) in line with your career progression
Flexible option for Tier 4 (Year 7 - 9): continue instalment OR trade in for a new Toyota

Financing Terms
| | |
| --- | --- |
| Eligibility | Individuals age 18 years old and above only for Private registrations. |
| Margin of finance | Maximum 90% financing , minimum loan amount applies. |
| Tenure | 9 years |

EZ Beli 4-Tier Plan FAQs
What is this Toyota EZ Beli 4-Tier Plan?
This is an easy auto-financing plan that allows anyone to get their first Toyota with a lower monthly instalment for the first 2 years and gradually increasing throughout the tenure.


How long is this loan tenure?
Toyota EZ Beli 4-Tier Plan is offered on a 9-year tenure for a new Toyota. Of the 9-year tenure, Tier 1 is the 1st to 2nd year, Tier 2 is 3rd to 4th year, Tier 3 is 5th to 6th year and Tier 4 is the 7th to 9th year.


How much can I borrow?
The maximum loan is 90% of the vehicle's On The Road price. Including Insurance & Road Tax.


What is the different between this plan compared to other hire purchase plan?
Toyota EZ Beli 4-Tier Plan allows you to enjoy lower monthly instalments in the first 2 years of the loan term and subsequently increase moderately as your career move up. While a conventional Hire Purchase plan requires you to pay the same monthly instalments throughout the loan term.


How low is the monthly instalment?
It is only RM928 per month for based on loan of RM123,000 for Toyota Corolla Cross 1.8G. Valid in Peninsular Malaysia, except Langkawi.


I am attracted to your lower monthly payments in Tier 1. Will I be able to afford the higher payments in Tier 2 or Tier 3 or Tier 4?
No worries! The instalments in Tier 2 are only slightly higher, with your career moving up, you'll be able to service the instalment. At end of Tier 3, you may choose to trade in the car for a new Toyota with Toyota EZ Beli again!


After Tier 3 ended, if I cannot afford the higher instalments in Tier 4, what is my option?
You may opt for early settlement of your car loan. Just trade in your vehicle for a new Toyota, and the trade in value can be used to offset the outstanding balance of your loan.


I just started my 1st job 2 weeks ago, am I eligible for this car financing package?
The beauty of this Financing Package is that you can apply for this even if you just started to work, all you need is to provide photocopy of letter of employment, Diploma/ University Certificate, MyKad and Driving License.


Can I pay more in Tier 1, 2 & 3 instalment and what will happen to my loan if I pay more?
Yes, you can pay more in Tier 1, 2 & 3 instalment. The additional payment is treated as advance payment.


Do I get interest rebates from my advance payment?
You'll still get to enjoy the rebate once you settle your loan at end of Tier 3!


Are only 4-Tier plans available?
We also have 3-Tier automotive financing plans for your consideration. Click here to explore the 3-Tier option.


Are government employees eligible for this plan?
Yes! In fact, we have a special campaign for Government Employees called Jom Drive. Click here for more information.